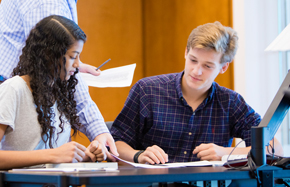 President of Pixel Factory Data Center Scott Brown knows the special skills Henrico CTE students can bring to the table. He - along with nearby tech company Richweb - has hired interns from Deep Run Center for Information Technology to work in his data center for years.
"They're self-starters. When you seed them with information, they take it and expand upon it," says Brown of the Pixel Factory's Henrico interns. Recently, Brown asked the interns to build a software application to run inside a docker container like a cloud virtual machine. Just two days later, the students presented their solution, which has since been incorporated into the facility's network monitoring software, helping manage data for the Pixel Factory's fast-growing client base.
Innovation can be found in Henrico's private schools, as well. Twenty-eight preschools, 43 elementary schools, and 21 high schools make up the independent education offering in the county. This includes the acclaimed Collegiate School, St. Christopher's, Grove Christian School, and The Steward School. The latter is a "facility for the next generation of innovators," where students enjoy an innovation lab, wellness studio, campus gardens, and much more.
For full Article Read Here